Hazard Bath
Butterfly Kisses Wrap Top - Hazard
DESCRIPTION

Exclusive Rolita Couture pattern made by the talented @BrizBazaar inspired by @Gaeaxnelle.

What do you get when you mix sweet, sassy and a little bad-assy?! The Butterfly Kisses Top! We took the classic triangle top and gave it fully-loaded flirt, with an underboob cut, brought together by an O-ring holding harness straps to create a unique focal point on your front and keeps you secure while you dance!

Handmade in the USA
High quality spandex fabric
Hand wash
Hang dry only
Fabric pattern will vary 
UV reactive

SIZING CHART

DESKTOP AND TABLET

| | | | | | | |
| --- | --- | --- | --- | --- | --- | --- |
| | IMPERIAL | | | METRIC | | |
| | BUST | WAIST | HIPS | BUST | WAIST | HIPS |
| XS | 31" - 32" | 22" - 23" | 32" - 34" | 80 - 83 | 57 - 60 | 82 - 86 |
| S | 33" - 35" | 24" - 26" | 35" - 37" | 86 - 90 | 63 - 66 | 90 - 94 |
| M | 36" - 38" | 27" - 29" | 38" - 40" | 94 - 98 | 70 - 74 | 98 - 102 |
| L | 39" - 41" | 31" - 33" | 41" - 43" | 102 - 106 | 79 - 84 | 106 - 110 |
| XL | 42" - 45" | 34" - 37" | 44" - 47" | 110 - 114 | 89 - 94 | 115 - 120 |
| 2XL | 46" - 49" | 38" - 41" | 48" - 51" | 118 - 124 | 99 - 104 | 125 - 129 |
| 3XL | 50" - 53" | 42" - 45" | 52" - 55" | 128 - 134 | 109 - 114 | 130 - 139 |

 

MOBILE

| | | | |
| --- | --- | --- | --- |
| | IMPERIAL | | |
| | BUST | WAIST | HIPS |
| XS | 31" - 32" | 22" - 23" | 32" - 34" |
| S | 33" - 35" | 24" - 26" | 35" - 37" |
| M | 36" - 38" | 27" - 29" | 38" - 40" |
| L | 39" - 41" | 31" - 33" | 41" - 43" |
| XL | 42" - 45" | 34" - 37" | 44" - 47" |
| 2XL | 46" - 49" | 38" - 41" | 48" - 51" |
| 3XL | 50" - 53" | 42" - 45" | 52" - 55" |

| | | | |
| --- | --- | --- | --- |
| | METRIC | | |
| | BUST | WAIST | HIPS |
| XS | 80 - 83 | 57 - 60 | 82 - 86 |
| S | 86 - 90 | 63 - 66 | 90 - 94 |
| M | 94 - 98 | 70 - 74 | 98 - 102 |
| L | 102 - 106 | 79 - 84 | 106 - 110 |
| XL | 110 - 114 | 89 - 94 | 115 - 120 |
| 2XL | 118 - 124 | 99 - 104 | 125 - 129 |
| 3XL | 128 - 134 | 109 - 114 | 130 - 139 |
MORE LOOKS TO ROCK
Customer Reviews
Love
I'm in love with the two diff color sides/ straps. Super freaking cute!!
04/16/2022
Amanda M.

United States
I'm obsessed
I am absolutely obsessed with this top! It is so flattering, very true to size and so worth the buy!!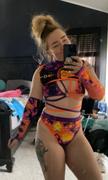 03/26/2022
Gabby G.

United States
IN LOVE
This top fits so well and it's so cute i can't wait to wear it!!!